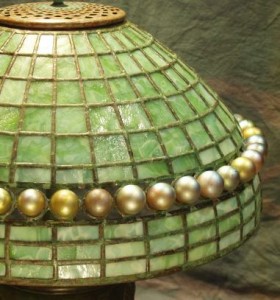 Completed days before our show in St. Paul, MN (see the posting from Sept 12, 2008), this shade was two years in the making! Why so long? It was because all the specialty reproduction parts needed to be created for the band of favrile balls. Making this band of lustred glass balls took the combined efforts of our studio, a glassblower and a metal stamping shop.
Once we had obtained an original Tiffany lustred ball and backing plate to use as an example, we began the process by having the balls reproduced. Each lustred ball was expertly made by a glass blower with a small bubble of air on the inside. Each ball is held in place to a band of loops with a backing plate and a screw. Bill drilled the balls by hand to reveal the open space so we could complete our preparations to screw the balls onto the shade.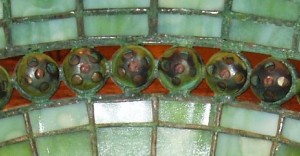 The backing plate for each ball was created by a local metal stamping shop using the original Tiffany part as a pattern. These tiny cup-shaped pieces have holes in them to allow the light to pass through and give light to the row of balls. So far so good!
The final step to making the completed shade was creating the band of metal loops needed to hold the balls in place on the shade. Once positioned on the shade, this band supports the balls and lets light through the spaces creating an open, airy feel.
Once all the various parts were created to exacting sizes and were all assembled in one place, we were finally able to begin construction on the shade.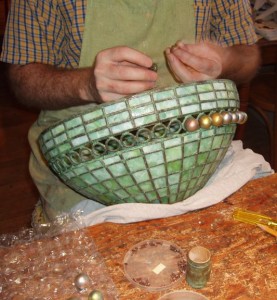 Bill spent a lot of time preparing the balls so they could be screwed onto the shade, and sorted them so they would look good in the band since no two are the same. We are excited to now be able to create other reproduction shades using these wonderful balls. Tiffany Studios made this shade in several different sizes.
This deceptively simple piece made its debut at the 9th Annual Arts and Crafts Show and received a lot of attention for its three dimensional look. The shade is currently available for purchase in our showroom.