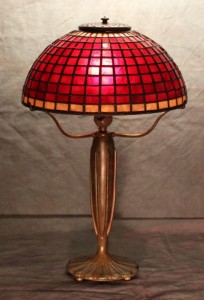 This past week we completed a couple of lamps which were commissioned by clients in the Upper Midwest. The first was a 12″ Geometric shade which was executed in red with linen white borders. The shade was used on the Torpedo Base, which was created at our studio.
We also completed a 16″ Dragonfly shade that has a lot of blended color. While primarily green, the background has touches of yellow, orange and blue blended throughout.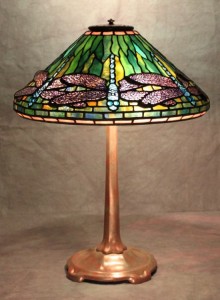 The dragonfly bodies and wings were made from ripple glass which gives the shade a lot of texture. Also unusual on the shade were the upper and lower border rows, which were executed from a pink glass. This look occurred occasionally on original Tiffany shades, and we really liked how the abrupt color shift accentuated the shade. The client provided his own base, but we are showing the shade on the Small Stick Base.