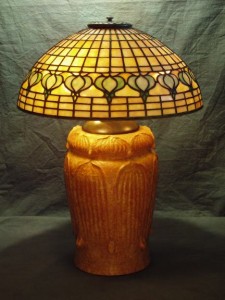 We recently completed a 16″ Pomegranate shade for a San Francisco client. The shade was created in amber/yellow tones and is being used as a table lamp with one of our exclusive Pottery lamp bases. The amber-glazed "Kendrick" pottery design of the base perfectly compliments the shade.
The Pomegranate is a variation on the Acorn pattern.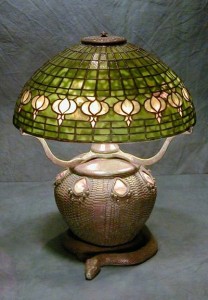 Tiffany Studios created many different shade designs using the theme of a brickwork background with a decorative border (Pomegranate, Acorn, Turtleback, Mushroom, and Fleur de Lis being a few). These designs have a classic, pleasing look and can be created in a large variety of color combinations. Because of the non-fussy appearance of these shade designs, they work with any appropriately sized lamp base, and they look particularly good in modern and arts & crafts interiors.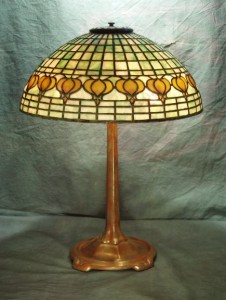 The design of the Pomegranate shade is slightly unusual in that the pomegranates themselves are rendered smaller than life size. The prevailing design principal at Tiffany Studios was to be "true to nature", but here the fruit is sized to fit the band becoming more of a decorative element. This departure from the norm firmly places the Pomegranate in the "geometric shade" category and not as a floral shade.
The example in green glass was created in 2001 and is pictured on the unusual Snake and Basket Base. The example to the left is shown on the Small Stick Base and was created in 2006.