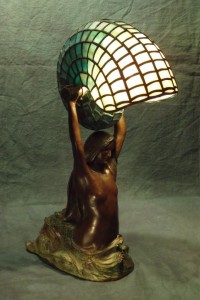 We recently completed a Mermaid/Nautilus lamp for a local client. This sculptural lamp features a bronze double-tailed mermaid riding the crest of a wave and holding a lit nautilus shell in her arms. Tiffany Studios used the nautilus shade on a few different bases, but this has always been the most coveted shade/base combination. Our client requested that we apply a polychromatic finish to the bronze base, toning the body of the mermaid without any green. This coloration makes for a striking lamp.
Using molds taken from an original Tiffany Studios example, the finely detailed cast bronze base is made at Century Studios. This is the only Tiffany base design which bears the signature of the artist who sculpted it.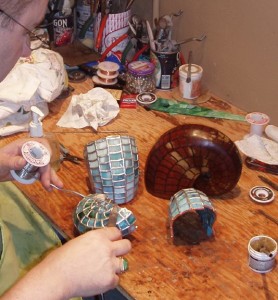 In the photo to the right, Irwin is shown soldering the stained glass shell together. Because this piece curves into itself (like a real shell), the shade must be made in several pieces and soldered together in sections. The wooden shell form used to create the shade can be seen in the photo.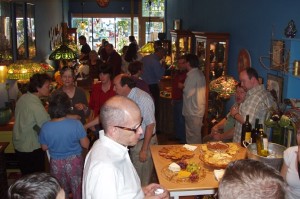 Turner & Scratch Pottery Opening
This past Friday we showcased 75 pieces of pottery by local artist Nick McArdell (pictured below) of Turner & Scratch Pottery with a special evening opening and artist reception. The studio was crowded with people eager to see the newest works by this talented local artist.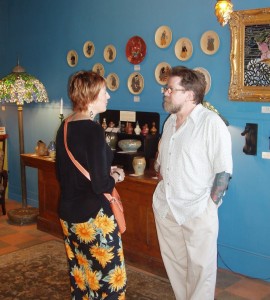 Century Studios has long featured works by Turner & Scratch in our showroom. Even though the opening night crowd took full advantage of having first access to Nick's newest works, there are still many exciting pieces on display in our showroom, with more new works to come soon. Stop by and see the pieces in person!