7″ Geometric Shade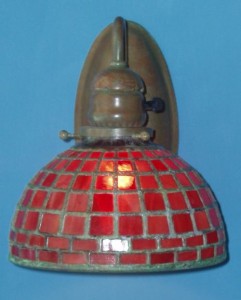 Making its debut as a wall sconce in our showroom is a new shade design we have just added to our available patterns. This petite 7″ Geometric shade has a 2 1/4″ fitter ring which makes it ideal for wall sconces and as a hanging pendant fixture. This versatile shade can be created in almost any color of glass.
Wally Birds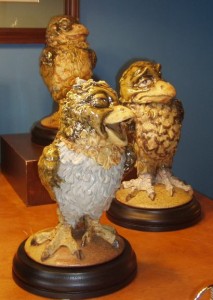 Originally created by The Martin Brother's Pottery in England in the late 19th/early 20th centuries, Wally Birds were the creation of Wallace Martin. With removable heads, these unique containers were hand sculpted in stoneware and glazed in a wood-fired kiln. Today, we are pleased to offer modern adaptations of these classic arts & crafts objects.
Created for Century Studios by Bur Oak Pottery (artists Ed & Laura Klein), each of our Wally Birds is unique. The bodies, heads and bases start as hand thrown pots, then artist Ed Klein takes these elements as a framework to begin sculpting each Wally Bird. Hand sculpted legs are attached to the thrown base and a "body pot" is attached to the top of the legs.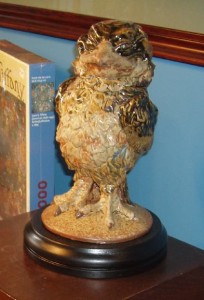 Using his exceptional skills, Ed begins shaping the bodies, adding wings and feathers until he transforms the pot into a unique sculpture. The head is transformed by adding the beak, eyes and more plumage.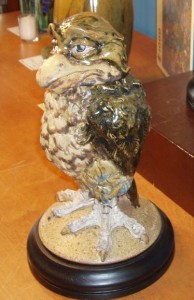 Bur Oak Pottery uses stoneware and wood fires the glazes of these unique birds, just like the originals. The firing alone is a 12 – 15 hour ordeal that requires constant monitoring, but produces the unique glaze colors and variations that cannot be found on any other type of pottery. Ed turns and paints a wooden base for each bird to lend authenticity to the finished creations.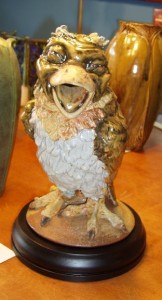 Because of the tremendous amount of work involved in creating each of these one-of-a-kind creatures, we rarely have new birds available. Just in time for our Open House on June 19th, a flock of birds flew into our showroom to the delight of the people who attended. Selling quickly, we only have three birds left for purchase from the current flock: the Well Fed Bird (upper right), the Thoughtful Bird (above left), and the Opera Bird (right).