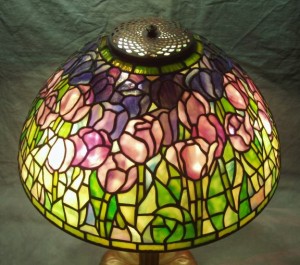 Century Studios is pleased to announce a new reproduction Tiffany shade pattern to our offerings. The 16″ Tulip Field is an elaborate variation on the 16″ Tulip which we have currently been offering. The new design is populated with many more blooming tulips than the previous example and was possibly an earlier version of the shade.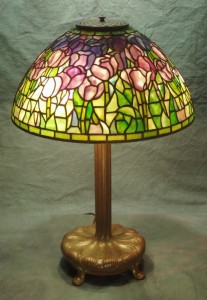 Contrary to common thought, earlier shades created by Tiffany Studios were more elaborate than shades designed at a later date. As time went on, some designs, like the 16″ Tulip, were streamlined for faster production. In letters to her family, chief Tiffany designer Clara Driscoll stated that when the cutting patterns wore out for a particular shade, she would personally remake the patterns, often redesigning the shade based on input from her staff, co-workers, and Mr. Tiffany himself. This usually meant that the pattern was simplified to eliminate pieces.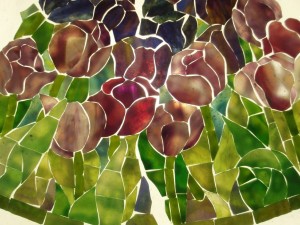 The 16″ Tulip Field shade was created in "Easter colors" with flowers in lavenders and purples, this shade has a light tone which is perfect for the coming of spring. The shade is pictured above on the Library base. The photo to the right shows a section of the lamp laid out flat on our light table to check the colors before finishing the shade.
CENTURY STUDIOS WILL BE CLOSED Wednesday April 7 through Saturday April 10. We will resume regular business hours on Tuesday April 13.