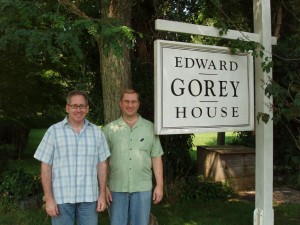 Edward Gorey was an author and illustrator of more than 100 books. He also illustrated many works by other authors, designed the sets and costumes for the Broadway production of Dracula (he won a Tony Award for his costume designs), and created the animated sequences used for Mystery! on PBS. His home in Yarmouth Port, MA was converted into a museum after his death in 2000 (www.edwardgoreyhouse.org). To the left is a photo of Bill Campbell and Irwin Terry outside the museum in 2007.
Each year, the House mounts an exhibition of Edward Gorey's works. The 2010 exhibition opened last week with the theme of Edward Gorey-illustrated works by other authors. Included are books, ephemera, and original artwork by Mr. Gorey. As usual, this year's exhibition promises to showcase many unusual and unique items.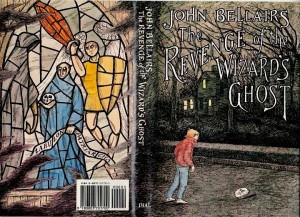 Included in the exhibition is the dust jacket artwork which Mr. Gorey created for The Revenge of the Wizard's Ghost by author John Bellairs. As collectors of Edward Gorey's works and fans of the museum, Bill Campbell and I have donated a stained glass window hanging inspired by the design from the back cover of this book. The window hanging will be on display throughout the exhibition and will be auctioned to benefit the Edward Gorey House.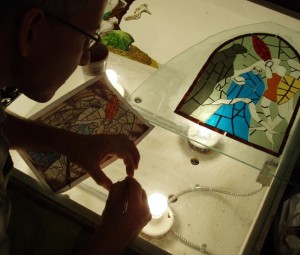 Referencing Mr. Gorey's illustration, we began by hand drawing a full sized pattern or "cartoon" for the window. Using hand rolled art glass, we cut and fit the glass pieces to match the cartoon.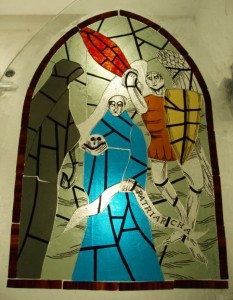 Details for the window were then hand painted by Bill on the surface of each piece of glass using a powdered mineral oxide. Bill referenced an image of the artwork while hand painting details onto each piece of glass. The glass was then fired in a kiln to 1275 degrees to fuse the painting to the surface of the glass (this is where stained glass gets its name from…Silver Oxide will turn yellow when fired, staining the surface of the glass).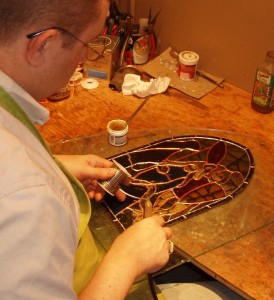 After much painting and firing, the edges of each piece of glass were hand wrapped in a copper foil tape. The use of the copper foil allows us to solder the pieces together – metal solder sticks to metal tape – and transform the individual glass pieces into a single window panel. Finally, the piece was cleaned and the lead lines were chemically darkened.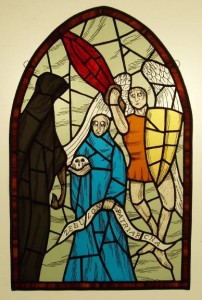 The completed piece of Edward Gorey-inspired stained glass is shown to the left. For more information on how to bid on this piece, please contact the Edward Gorey House at 508-362-3909.