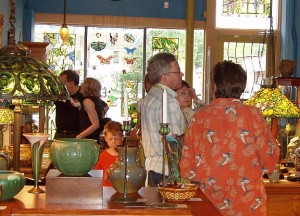 Last week at Century Studios, we worked on and/or completed 7 different projects, then capped the week off with our Grand Opening/Open House on Friday evening from 6 pm to 8 pm!
Our Open House was a great success with many friends, clients, and new acquaintances stopping by to visit.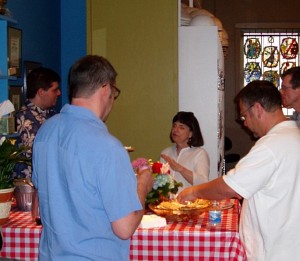 Our supply of snacks held out through a 10 minute downpour of rain about 7:30 pm, which kept visitors indoors. The rain disappeared as quickly as it came upon us, and it did not dampen the spirits of our visitors.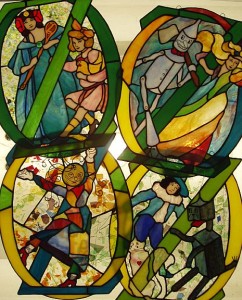 One of the projects we completed last week was something of a flashback for us. Years ago, we created a series of window hangings based on illustrations from the Wizard of Oz books (to the left you can see 4 of the panels from the series). We created ten different designs for this series, and we sold them through a New York City bookstore for several years. When we moved into our new location, we decided to hang our prototype panels for this series in our back window to give our workspace some color. This has revived an interest in the pieces, and a recent visitor to our studio has ordered up a complete set of the colorful panels.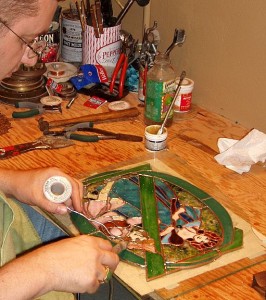 Using the illustrations by John R. Neill as inspiration, Bill Campbell drew ten different panels using the famous "OZ" logo as a framework to feature characters from the book series. While many of the characters depicted in the panels will not be familiar to those who only know the 1939 MGM Wizard of Oz film, all the favorites are present including the Tin Man, Scarecrow and Lion.