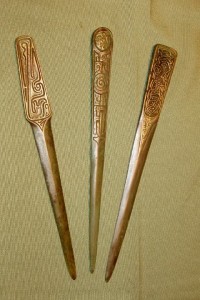 Century Studios is pleased to offer four new designs to our line of reproduction Tiffany Studios Letter Openers. Each letter opener (or Paper Knife) is cast in solid bronze and finished in a brown/green patina. Letter openers were originally included as part of Tiffany Studios' desk sets and remain one of the most functional and popular pieces from the sets. We currently offer seven styles to choose from. Each letter opener is priced at $95.00.
New! Adam – The Adam pattern takes its inspiration from the neoclassical designs of architect Robert Adam (1728 – 1792). This knife is designed with a single, asymmetrical cutting edge and a decorative rosette at the hilt.


New! Bookmark – This elegant, slender design features the typographical marks of early printers and publishers from the fifteenth and sixteenth centuries.


Chinese – A highly stylized dragon motif decorates the Chinese letter opener.


9th Century – This knife features a friendly, bushy tailed animal on each side of the handle. The intricate scrolling recalls medieval churches and illuminated manuscripts.


New! Venetian – The highly decorative patterning on the handle gives this knife an expensive look and feel.


New! Early Zodiac – The Zodiac motif was Tiffany Studios most popular desk set pattern. The decoration on this knife has an elegant simplicity which suggests Celtic origins.


Zodiac – Due to the popularity of the Zodiac desk set, a more elaborately patterned paper knife was introduced with zodiac symbols on each side.