Bill has been working on another Oz-themed stained glass window – see the posting from August 2, 2010 for a previous Oz-themed creation. Commissioned by a local client, here are a couple shots of the progress.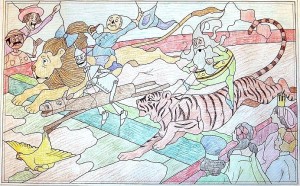 This window is based on the endpapers drawn by John R. Neill for Ozma of Oz, L. Frank Baum's third Oz title. Bill had to made some minor adjustments to the image, but it's a pretty straight-forward adaptation of the original illustration. To the right, you can see the pattern, or cartoon, for the window.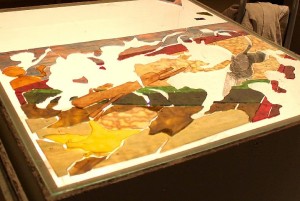 On the left, pieces are being cut and fit to create the window. Below, all the glass has been cut and fit, and painting on the characters is beginning. We will show the completed window in a future post.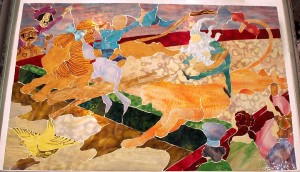 Century Studios will be having a Holiday Open House on from Friday November 18th from 6pm to 9pm! Join us as we kick off our Holiday Season. Refreshments will be served.
In addition to several new pieces by Century Studios, we will be showcasing new works by Turner & Scratch Pottery. Potter Nick McArdell from Turner & Scratch will be in the studio. We are also expecting a shipment of new pieces from Bur Oak Pottery.