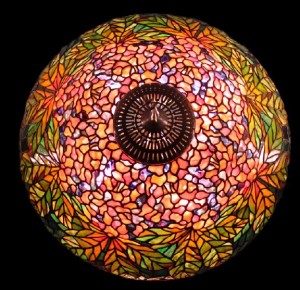 This week, we introduce a new shade pattern which is a hybrid – the 22″ Chestnut shade. This is a Century Studios' version of a Tiffany Studios shade design which does not appear to have been produced. For years, we have been fascinated by the salesman's sample panel of the Chestnut lamp which currently resides in the Morse Museum in Winter Park, Florida. The panel has appeared in several books on Tiffany lamps, but no completed shade seems to exist for this pattern and the lamp does not appear on the Tiffany price lists. This lack of concrete information for the lamp inspired us to work up our version of this unusual shade.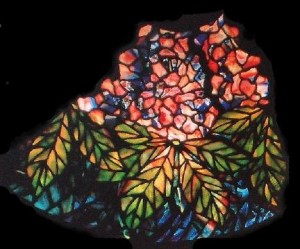 With only a photo of the panel and some general measurements to go by, we had to determine what size and shape would best fit the pattern. After much experimentation, we finally decided to create the shade as a 22″ modified turban shape. The shape seemed to fit the pattern well and at the 22″ shade size the flowers and leaves appeared to be life sized – something that is common in most Tiffany floral shade designs. Bill adapted the pattern to the form and we were able to commence creating the shade.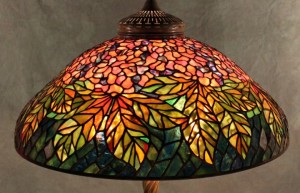 Using the original panel for color inspiration, our shade is rendered in richly saturated colors.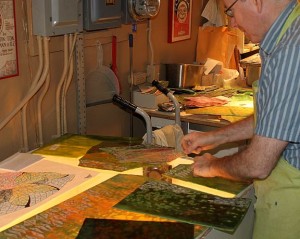 At the top of the shade, the abundant flowers are viewed at the peak of bloom, and the colors are saturated with pinks, red tones and hints of off white. The large leaves overlap one another on the lower half, drawing the colors of the flowers down the shade. The background areas, viewed amongst the foliage and below the leaves was cut from fracture glass to give the shade additional color and interest.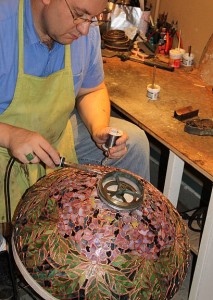 The fracture (or confetti) glass used on the top half of the shade was created in our studio specifically for this shade.
After completing this shade, it was surprising to us that there are no original Tiffany Studios' examples of this shade. The pattern is lush and has a vitality and movement that is the hallmark of the best of Tiffany Studios. The 22″ Chestnut shade was created for a client in Illinois, and is shown on the Twisted Vine base. This stunning pattern would also make a wonderful chandelier fixture or floor lamp.