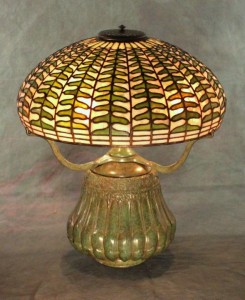 We recently completed a 16″ Fern shade for a client in Texas. This rare Tiffany Studios pattern is a mix between a naturalistic and a stylized design .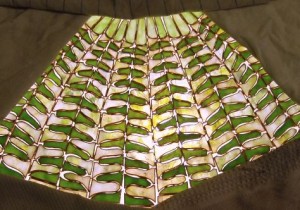 Boldly symmetrical, the shade has a strong graphic sensibility while remaining true to the plant it represents.
The client requested a clear contrast between the ferns and the background color in this shade, with green ferns and a white background glass. The background was cut from a translucent white glass with green fracture/streamer.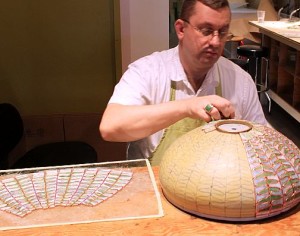 The fracture gives the shade an added interest, as if more plant stems can be seen through the fronds.
Shades of this type always take a bit of fortitude to create because there are so many small pieces which look very similar. Organization is key to keeping everything in its place throughout the construction process. It is easy to get confused when all the pieces start to look alike.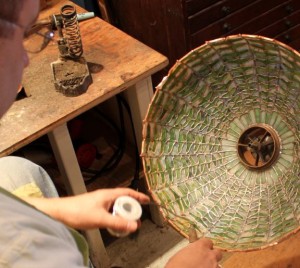 To the right, Irwin is shown transferring the foiled pieces onto the waxed lamp form, and to the left he is shown soldering the inside of the shade.
The Fern is shown on the Cereus base. This distinctive bronze reproduction lamp base was created in our studio using molds taken from an original Tiffany Studios' example.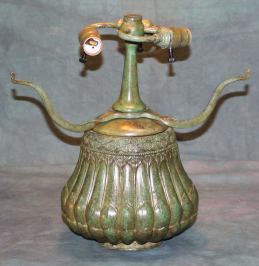 The highly three dimensional design of the Cereus base takes its inspiration from a Nightblooming Cereus Cactus. Deep incuts define the ribs of the cactus while flowers bloom at the top of the casting.
Upon receiving the completed lamp, our client wrote, "The lamp is now in place and it is fantastic. It is not a well known design but it is one that I fell in love with the first time I saw a picture of it many years ago. I never thought I would have my own reproduction."
HOLIDAY HOURS
Now through December 23
Tuesday through Friday 10 – 6
Saturday 10 – 4
Sunday 12 – 4
Closed Mondays