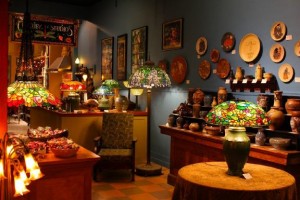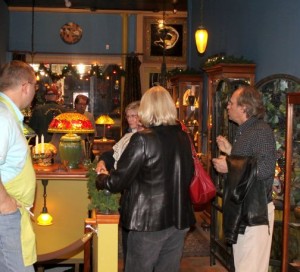 To kick off the Holiday Season, we have made up an 18″ Poinsettia Trellis lamp. Completed just in time for our Holiday Open House this past Friday evening, the lamp was featured prominently in our showroom. Our Open House was well attended, and we ended up not leaving the studio until well after 10pm!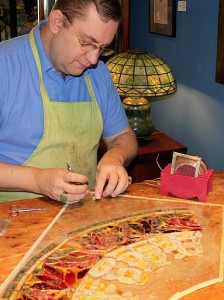 This richly colored 18″ Poinsettia radiates warmth with a deep orange/amber background glass and yellow/amber trellis. Forming a band around the shade, the abundant poinsettias are rendered in jewel like tones of vibrant red and reds flecked with amber. In the photo to the left, Irwin is foiling a portion of the lamp.
This generously proportioned shade is shown on a Kendrick design pottery base. The pottery portion of the base was created by Ephraim Faience Pottery, and is a hand made reproduction of a Grueby Pottery base.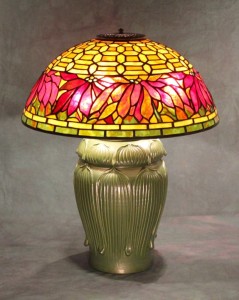 Glazed in their distinctive Antique Green glaze, the base is a perfect compliment to this shade. The 18″ Poinsettia lamp is currently available for purchase in our showroom.