This week we introduce a new floor base to our offerings – the Bamboo Jr. Floor Base. Made in our studio using molds taken from an original Tiffany Studios' example, the Bamboo Jr. Floor Base is lost wax cast in solid bronze.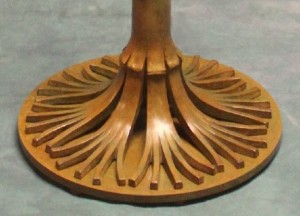 The base starts at the floor resting on eight cushion feet tucked under the bronze disk.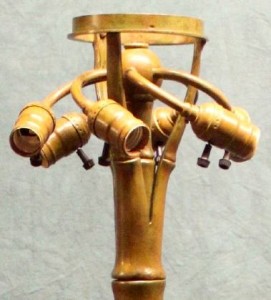 The bamboo spays out over the disk as a three dimensional openwork cage, gathering into a realistically detailed stem which moves upwards, ending in a three pronged split tripod to support the shade. The base has six lights.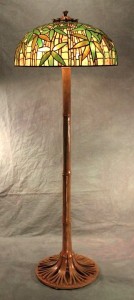 We are showing the base with the 22″ Bamboo shade. The lamp is capped with a reproduction Bamboo Cap, which completes the look of the piece. This base lends an exotic flair to any of our 22″ shade designs, and works especially well with peony shades. The 25″ Rose Bush or Roman shades also look great on this base, as do any of our 28″ cone shades.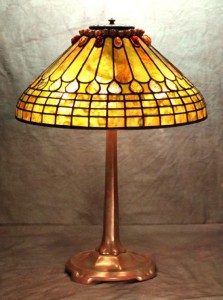 Also new to our showroom is a recently competed 16″ Jeweled Feather shade. This abstract shade design has chunky pressed glass jewels at the top and ripple glass in the teardrop shaped pieces at the center of the lamp, resulting in a very textured lamp. We are showing the shade on the Small Stick base.