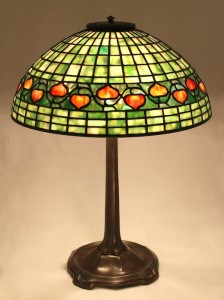 Things sometimes go in multiples at the studio. We recently had two clients who both commissioned 16″ Acorn shades.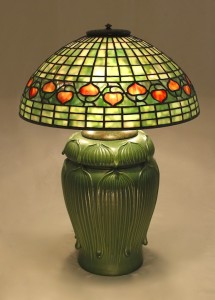 The first lamp was for a local client to decorate their bungalow style home. The colors were chosen to work with the decorating themes in the home. The decorative band was accented by using a darker green glass so it stood out against the background of the shade. Deep orange/amber acorns provide a splash of color. The photo at the top of the post shows the shade on the versatile Small Stick base. The photo on the left shows the same shade on the Pottery Base – Kendrick Design.
The second 16″ Acorn shade was created for an out of state client who had an antique pottery base that needed a shade. We chose a celedon green glass that complimented the glaze color of the base for the background and a light amber glass for the acorns.