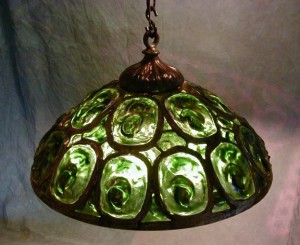 Designed to be used as a chandelier fixture, the 26″ Turtleback shade is a unique Tiffany Studios design. "Turtleback" is the name given by Tiffany Studios for the large pressed glass jewels that resemble the shell of a turtle. These are some of the largest jewels that Tiffany created and they were used in a variety of shade, mosaic and window applications. The turtleback tiles are pressed in two sided bronze molds created from an original Tiffany tile. The thickness varies from over 1/2″ to less than 1/8″ within each tile.
This 26″ Turtleback has a different look from most of the other turtleback lamps we create. Usually turtleback shades have flat glass tiles and a decorative band of turtlebacks, while this lamp is created completely from the pressed jewels. Starting with large 4″ x 6″ pressed turtleback tiles, the shade is characterized by its heavy lead lines and chunky, three dimensional glass.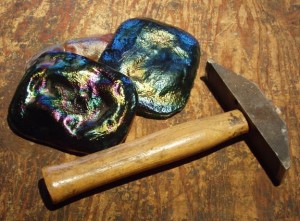 Using turtleback tiles which were pressed especially for our studio, we begin the shade by creating a network of large oval jewels with massive leading between them. Once the large turtlebacks are tack-soldered in place, Irwin cuts, facets and fits the pieces that will fill in the gaps between the large jewels. This process is done completely by hand using the carbide tipped hammer shown in the photo to the left.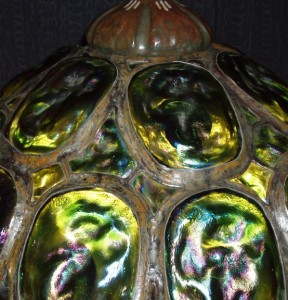 Because of the extra weight of the glass in this shade, special reinforcement is needed so that the piece will not sag or pull itself apart over time. With a single chain, six light chandelier fixture, the total weight of this unusual shade is approximately 48lbs – more than double the weight of other large stained glass chandeliers.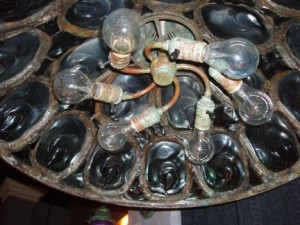 This shade design is one of the only lamps that Louis Comfort Tiffany had in his own home. He used three 18″ versions of this shade hanging in a line over a long table. The shade we are showing is currently in our showroom and available for purchase.