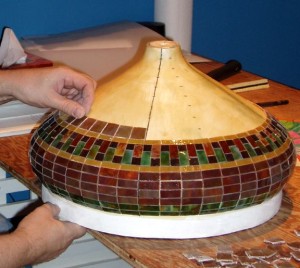 Last week, each of us worked on separate lamp projects. While Irwin was creating a geometric turban shade for a client in the Chicago area, Bill laid out a new floral shade for our showroom.
The design of the 18″ Geometric Moorish Turban harkens back to Louis Comfort Tiffany's earliest inspirations for lighting design.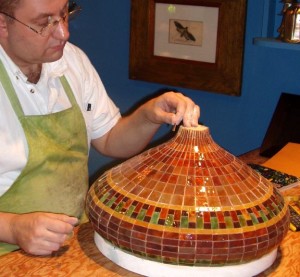 The onion dome shape makes a distinctive table lamp or inverted hanging shade. In the above photograph, Irwin is about half done laying out and fitting the geometric pieces on the form. In the photo to the right, the top row is being put in place.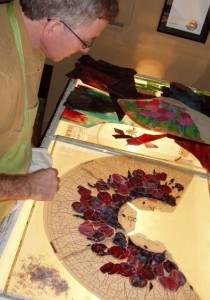 While Irwin was creating the geometric shade, Bill worked on a 16″ Tulip shade for our showroom. We will show the completed shades in a future posting.