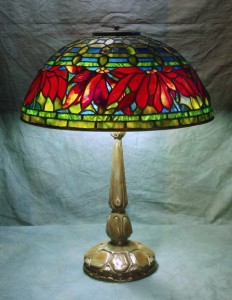 The most recent addition to our line of Tiffany reproduction shade patterns is the 18″ Poinsettia Trellis design. This floral design features an unusual trellised background, which gives the design an "in the garden" feel. The profusion of lush foliage and rich coloration make this design a welcome addition to our expanding line of shade patterns.
The shade is shown on the Mockturtle base. This base has a great three dimensional look and works well with any 16″ to 20″ shade.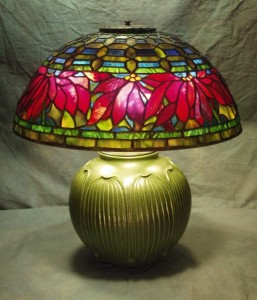 In the small photo to the right, the same shade is shown on the Osage Pottery base. The roundness of the base gives the lamp a very different profile from the tall, narrow Mockturtle.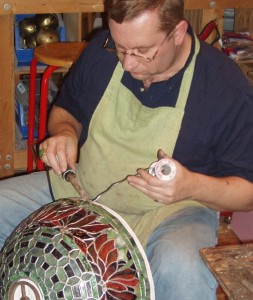 Irwin is shown soldering the outside of this shade. The 18″ Poinsettia shade was created for an Illinois couple and is now in their private collection.