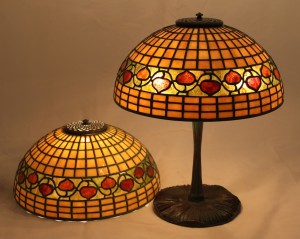 Over the years we have been commissioned to create matching pairs of lamps for clients. Most of our clients use matching pairs of table lamps on either side of a bed. Generally, clients tend to prefer geometric shades instead of florals for matching pairs, but we have created a pair of 16″ Poppy shades to hang over an in-home bar. The largest matching pair of lamps we have been commissioned to create were two 26″ Turtleback chandeliers which were hung over a pool table by a local client.
Our most recent pair of shades has been a set of 14″ Acorn shades (See photo at top of post). Created for a client in Washington state, these shades have golden geometric backgrounds and bands with hints of green, amber and deep amber.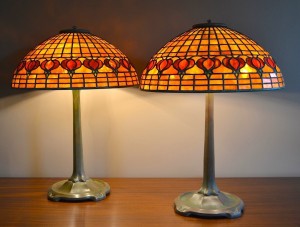 Another recent pair of geometric 16″ Pomegranate shades was commissioned by a couple in North Carolina. Shown on matching Small Stick bases, these lamps will be used as mood/reading lamps on either side of their bed. The deep amber background sets off the red pomegranates in the borders of the shades.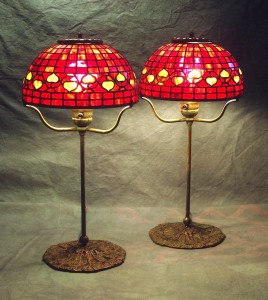 We have probably created more pairs of 10″ Acorn shades than any other design. One of the more dramatic pairings was a set of red Acorn shades created for a local client in 2008. The shades were used on matching Queen Anne's Lace bases, which were also made at our studio.
Not all pairs of lamps go on two bases. These 10″ Acorn shades were made for an original Tiffany Studios Double Student Lamp Base.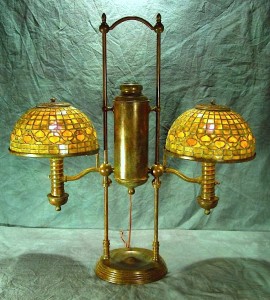 We currently have a matching pair of 10″ Acorn shades on display in our showroom. This pair is displayed on matching Doric Column Torchiere bases. Created in our studio, these reproduction Tiffany Studios bronze bases would work well on a mantle or sideboard. This pair of lamps is currently available for purchase in our showroom individually or as a set.