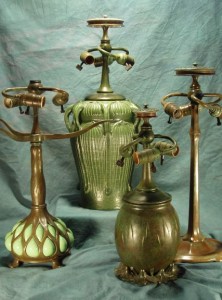 At Century Studios we are pleased to offer over 65 reproduction lamp bases and chandelier fixtures to compliment our stained glass shades. We offer two lines of bases, those created by Odyssey and bases made in our Minneapolis studio.
Odyssey bases are cast overseas using molds taken from original Tiffany Studios lamp bases. They are solidly made, accurate to the Tiffany originals, and finely detailed. We offer the full line of Odyssey metalwork.
Reproduction Tiffany bases made at Century Studios are created one at a time in our studio. In February 2000, we acquired the holdings of Studio Disselhoff from Los Angeles, CA. Willy Disselhoff began creating Tiffany reproduction bases in the 1960's and had a wealth of molds and parts used for making lamp bases. After bringing the contents of his studio back to Minnesota, we began the ongoing the task of sorting through the materials and figuring out which lamp each individual piece went to – often a lamp part will be used on several different bases.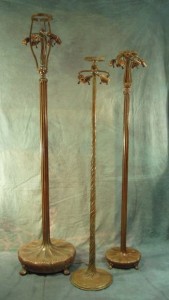 Over the past eight years, we have been slowly working to expand our line of reproduction bases. To date, Century Studios offers over 20 exclusive reproduction bronze lamp bases and chandelier fixtures.
In addition to our bronze bases, we make reproduction metalwork for a large variety of pottery bases made in conjunction with Ephraim Faience Pottery and Jemerick Art Pottery. The pottery portions of these bases are hand made to our specifications and we fit them with our lighting components. Tiffany Studios offered a selection of pottery lamp bases using pots made by the Grueby Pottery. Our line of pottery bases have been especially popular with arts and crafts collectors.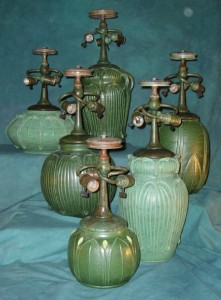 Century Studios is proud to produce a full line of Tiffany reproduction Lily Lamps, Lily Chandeliers and Lily Wall Sconces. We will post a blog entry for these pieces at a later date.