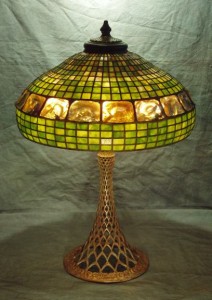 Our final lamp project of 2008 was a large 22″ Turtleback Turban. Created for our showroom, this impressive lamp can be used as a large table lamp, on a Junior Floor Base or as a chandelier fixture. The shade is shown on the Eiffel Tower Base.
The turtleback tiles were hand cut and faceted from 4″ x 6″ pressed glass tiles that were created especially for Century Studios. The amber/yellow tiles have whisps of blue running through them which give them a smoky appearance. Since the turtleback band is cut by hand, no two tiles are exactly alike.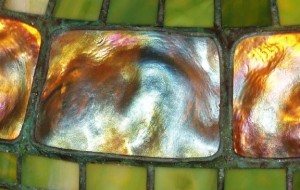 Once fit to the proper size, the tiles are wrapped in lead which is the method employed by Tiffany Studios when creating turtleback lamps. The lead wraps around the outside edge, giving the tiles a distinctive look when the lamp is completed. This look cannot be achieved by simply foiling the turtlebacks. The photo to the right shows Irwin soldering the turtlebacks in place.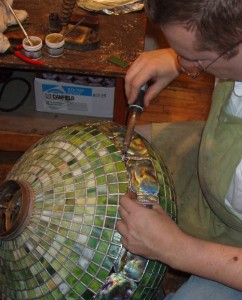 The background glass for this large lamp shifts to green from the top where there is amber, white and darker green mixed with the lighter background tone of brighter greens. This shift in color is dramatic and gives the shade a unique look. This shade is currently available for purchase in our showroom.