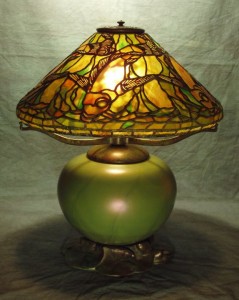 In preparation for our upcoming show this weekend, we have been working to make up a few new shades and bases. One of the shades we completed is a 16″ Fish pattern, pictured to the left on a Century Studios' Pond Lily – Blown Glass & Bronze Base.
The Fish shade is one of the more unusual and rare Tiffany shade designs (only a few original examples are known to exist).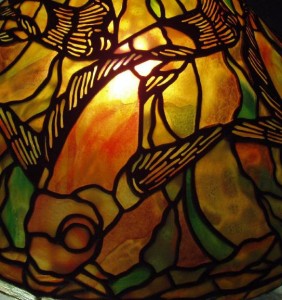 The viewer of this lamp is treated to a tranquil pond scene where 5 fish peacefully co-mingle amongst floating vegetation. This underwater scene gives the viewer the impression that they are gazing down into a Koi pond.
Filigree plays an important design element in this shade. Fins and tails on the fish are accentuated by the filigree, giving the shade a distinctly Oriental feel. Filigree is used in a handful of Tiffany lamp designs including the Fish, Dragonfly and Poppy shades. Tiffany Studios also used filigrees extensively in desk sets.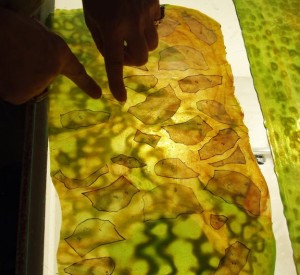 This is our first piece to use a new glass called "Circa 1900", which was created by the Youghiogheny Opalescent Glass Company from Pennsylvania. This unique glass has been developed to replicate one of Tiffany Studios' finest types of art glass.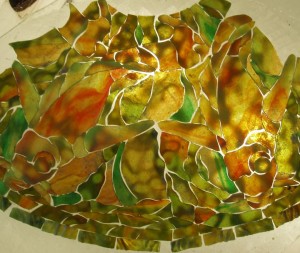 The transparent ring mottle and surface hazing make this glass an indispensable addition to our library of reproduction art glass.
The Fish shade will be on display and available for purchase at our booth this coming weekend at the 10th Annual Arts and Crafts Show which is being held at the Minnesota State Fair Grounds.