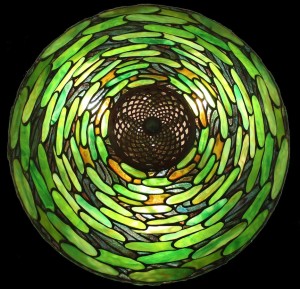 During the Winter months Tiffany lamps are a glowing reminder of the coming of Spring and the long hot days of Summer. There are several water-themed shade designs that evoke tranquil Summer days. The 20″ Lily Pad captures this feel in a unique way.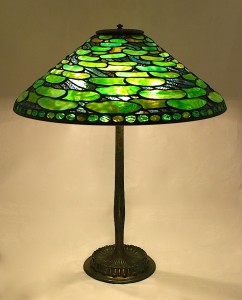 This is possibly the only Tiffany Studios lamp shade design that is drawn in deep perspective. The lily pads on the shade are large at the bottom and become smaller towards the top. Because of the shallow cone shape, the eye is tricked into viewing this as a shift in perspective rather than in just being smaller pieces. Even though the shade has many individual pieces of glass, the effect of the design is that of being very simple.
We are showing the Lily Pad on the Grooved base.