Small lamps will provide mood lighting and color accents to any room. These petite stained glass lamps brighten the decor without dominating a room.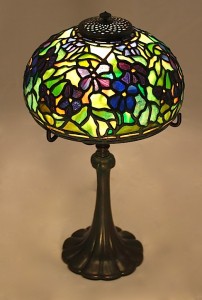 The 7″ Violet shade is a Century Studios' original lamp design by Bill Campbell. This petite lamp has jewel like presence due to its many tiny individual pieces of glass. The beautiful purple flowers are rendered in "gold purple" glasses. The most highly sought after purple and pink glasses are made by adding gold to the batch glass, which results in an intensely beautiful color tone. The shade is shown on a Duffner & Kimberly style base. This lamp is in our showroom and is currently available for purchase.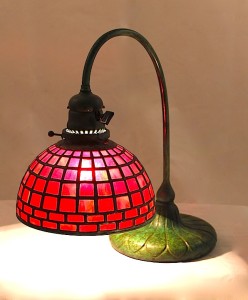 Also available in our showroom is this 7″ Geometric on the Piano Lamp base. The heavily weighted base allows the shade to cantilever over the edge of an upright piano or book case, illuminating the area below.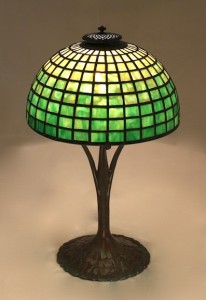 Gently shading from off white to green, this 10″ Geometric shade was commissioned by a West Coast client. The shade is shown on the 3 Armed Ruffle base.