Snow still covers the ground, but Century Studios has Spring in the air! The Studio has been hopping with many projects for clients near and far.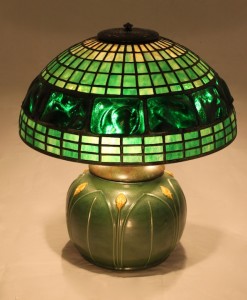 We created a 14″ Turtleback lamp for a local client. The deep emerald green turtleback tiles are set against a geometric border of cream & green colored glass that makes a dramatic shift in color from top to bottom. The Leaf & Bud Pottery base is the perfect compliment for this shade. The pottery portion of the base was created to our specifications by Ephraim Faience Pottery and we created the reproduction metalwork.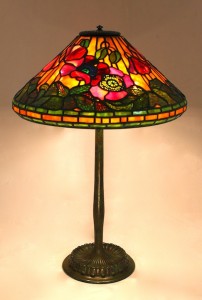 A brilliantly colored 16″ Poppy shade was created for a San Francisco couple. The warm golden background glass sets off lush poppy flowers in jewel tones of red, orange and fuchsia. The shade is shown on the Grooved base.
A local client commissioned a pair of water themed windows for his stairwell. The gently rippling pond is home to fish, frog, dragonfly and flowers. The dragonfly and fish feature filigree overlays.