Here are a couple of projects we completed in December.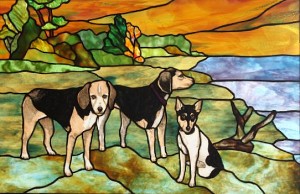 Pet portraits are popular, and many artists and painters specialize in this genre of art. We occasionally get requests for pet portraits in stained glass, and this window was commissioned by a local client. The delightful trio of pups are relaxing in a regional landscape.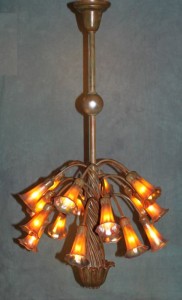 Completed just before Christmas, this 18 Light Lily Chandelier is on display in our showroom. We now have examples of all three lily chandelier fixtures on display – 7 light, 12 light and 18 light. For the 18, we decided to add a lustre glass ball into the stem for variety, and the fixture can be created with or without the ball.