This week, we add another Tiffany Studios reproduction shade design to our catalog – the 16″ Persian shade.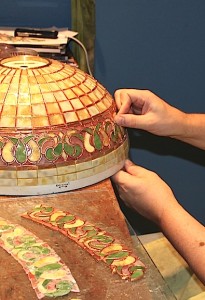 Commissioned by a Southern client, the Persian has an exotic feel, with a geometric background showcasing a band of arabesques, which is playful yet elegant. As elegant as this shade is, the lamp we created was taken a step further by the addition of rows of Chain Mail.
Chain Mail was a unique feature on many Tiffany lamps and fixtures. At Century Studios, we have recreated this signature look, and chain mail can be added to any shade with a level lower edge. Tiffany lamps will have as many as eight horizontal rows of chain mail – the addition of the rows of chain mail not only add depth to the shade but they provide a unique period look.
Each individual piece of chain mail is created by hand, in a technique that Irwin refers to as "weaving with glass and metal". Starting with a small copper framework, which we had made to Tiffany's original specifications, a piece of hand cut glass is encased within the square. During the process, small loops are incorporated into each square and used to connect one square to the next as the glass is being encased by hand. A border like the one on the Persian shade will take several days of painstaking work to create.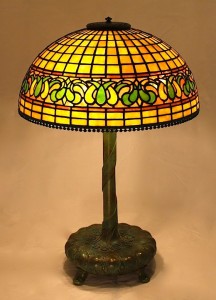 In both photographs (with and without the chain mail) the shade is pictured on the Decorated Library base.