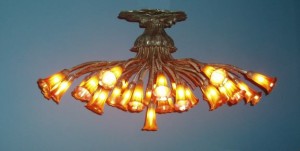 At Century Studios, we make a wide variety of lily lamps and fixtures. The largest are the 49 Light & 31 Light Ceiling Lily Ceiling Fixtures. Currently in our showroom, we have a 31 Light Ceiling Fixture on display. This impressive fixture is priced at $8100.00.
Every day from now until December 23, Century Studios will showcase an item from our showroom here on our blog.
We are open today from noon to 4!
CENTURY STUDIOS
HOLIDAY HOURS
Now through December 23
Tuesday through Friday 10 – 6
Saturday 10 – 4
Sunday 12 – 4
Closed Mondays
1816 St. Clair Avenue
St. Paul, Minnesota 55105
651-699-4838
centurystudios.visi.com