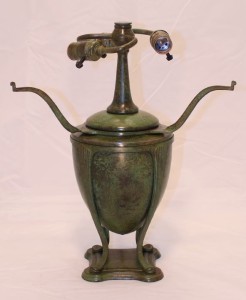 After much anticipation, we are pleased to introduce the Greek Urn Base to our studio showroom. This classic Tiffany Studios lamp base looks fantastic with most 16″ or 18″ shades. The spun urn is supported by four sinuous, cast bronze legs and the shade rests on a tripod arm set. The base has three lights.
The 16″ Daisy Shade is a hybrid of a Tiffany Studios shade design. The shade pattern is actually the 16″ Black Eyed Susan, but for years Bill has been speculating that the pattern would look wonderful in daisy colors.


While this variation is a Century Studios' idea, it was not unusual for Tiffany Studios to change colors on an existing shade pattern to create a new design. One such example is the 22″ Laburnum (when created in golden tones), and the 22″ Wisteria (when created in blue tones). We believe the 20″ Black Eyed Susan would also look good in daisy colors.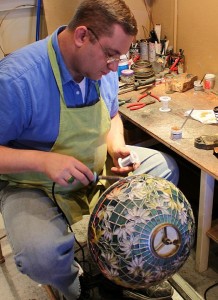 For the 16″ Daisy, Bill has continued his "blue period" – he first completed the layout of the 10″ Wisteria Lamp (See our posting from May 20, 2012), and then this shade. When created in daisy colors, the shade becomes light and happy, invoking a sunny spring day. In the photo to the left, Irwin is shown soldering the outside of the shade.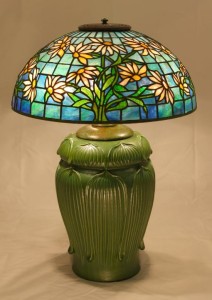 The shade is shown above on the new Greek Urn Base, but it works equally well with any of our bases. To the right, it is shown on the Kendrick Pottery Base.