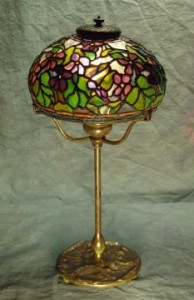 The smallest stained glass shade we create is a 7″ Violet design. This is a Century Studios' original shade design that was created by Bill Campbell in 2006. To date, we have made three examples of this petite pattern.
Bill designed this small shade following the "Tiffany rule" that the size of the flowers depicted on a shade should be rendered life size to the original plant. Because everything is done in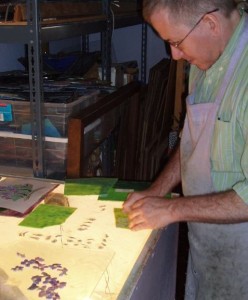 miniature, the pieces for this shade – especially the flower centers – are often not much larger than chips of glass which must be cut, fit, foiled and soldered into place. This is painstaking and time consuming work!
Finding a lamp base small enough for the shade can be a challenge. We have used our Lily Pad Base (a design which we also make as a candlestick) which makes for an elegant pairing.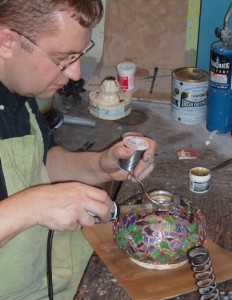 For our show in September, we used the Wood Violet Vase created by Ephraim Faience Pottery and created metalwork to turn it into the perfect small lamp base.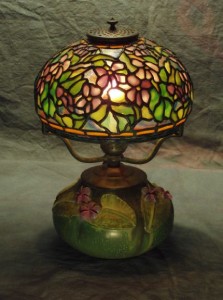 The example pictured on the Lily Pad base is in a private collection. The example shown below on the pottery base is currently in our showroom and available for purchase.