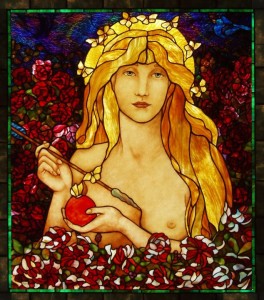 The Venus window is now complete and delivered. The posting showing the beginning of Venus window's construction was posted on August 25, 2008.
Venus is the goddess of love and possesses the "golden apple" which was presented to her by Paris. Scholars believe the apple was really an orange, since they were much scarcer than apples in Ancient Greece and were highly prized. Venus is shown holding her trophy and also an arrow with which she could send love on its swift course to the heart of a mortal.
The first photo to the right shows the window on our light table before the flowers have been laid out.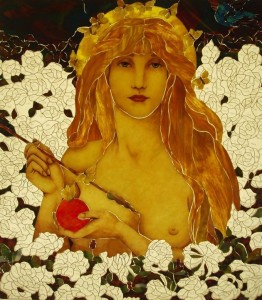 The painting has been completed by Bill and the hair, halo and most of the background has been laid out. The photo to the left shows Irwin laying out the roses in different shades of ruby red. Our clients requested that the roses be lush and red in tone and several different glasses (some with textured surfaces) were used.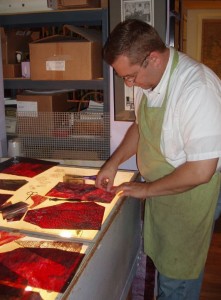 The upper background of the window where the roses appear was plated behind a textured glass that added color and shading to the area behind the figure.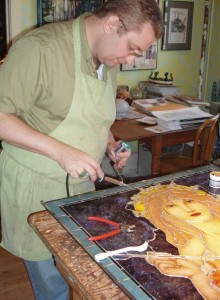 In the next two photos, the window is shown being soldered and also without the plated background in which the roses were added.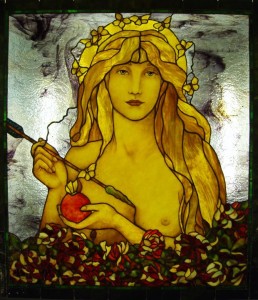 In the completed window, the plating intensified the color of the blue and purple background glass and also gives a sense of three dimensional depth to the finished window. This window was framed in a solid Maple light box and is now in a private collection.