This week we are revisiting two major window commissions which were created for a local client. Both photos were taken during the installation of the Ophelia window.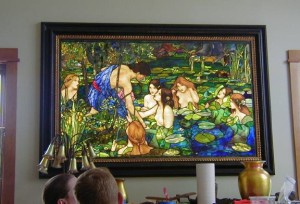 Created in 2001, our Hylas and the Nymphs window is based on the 1896 painting by John William Waterhouse. The image was chosen by our client and presented an exciting challenge. The complex window gave us the opportunity to create a wealth of details and use multiple layers of glass. The figures in Hylas have been hand painted by Bill Campbell using powdered minerals which are kiln fired onto the glass surface. Almost the entire window was created using two layers of glass. This was particularly effective in the water areas of the image, giving a sparkling depth to the pond. Our clients installed the completed stained glass over a custom built exterior window, then framed it to look like a painting hanging on the wall. Daylight illuminates the panel, and exterior lights were added so it could also be enjoyed in the evening. For another photo of this window, visit the Window section in the Gallery on our website.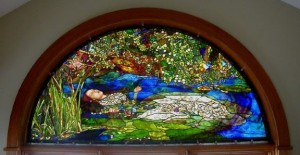 In the same room, on an adjacent wall to the right of Hylas and the Nymphs, visitors see our Ophelia window. Ophelia is positioned above a picture window in a half-round eyebrow window. Once again, multiple glass layers and minute details bring this window to life, even though Ophelia's life is fading. The 1850 painting by Sir John Everett Millais was the inspiration for our stained glass depiction of a subject from Shakespeare's Hamlet. We created this piece in 2004.