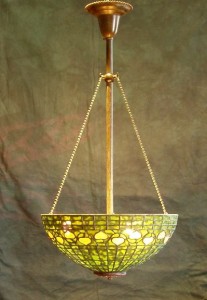 Recently, we have been making a number of geometric shades, including several Acorn lamps. The Acorn design works in most interiors because of the simplicity of the pattern and the multiple color combinations that the shade can be created in. As a testament to the continued popularity of the 16″ Acorn design, since 1986 we have created 34 examples of this shade pattern. While "Acorn" was not the original name for this pattern, it has become the accepted moniker by dealers and collectors when referencing this pattern today. The shade was called a Vine Border on the original Tiffany Studios' price guides, which is evident by the heart-shaped leaves in the border.
During the past month, we made two 16″ Acorn shades that went to opposite ends of the country. The first Acorn was an inverted chandelier fixture that went to California. The lush, green background was rendered in a heavily mottled glass and provided a deep backdrop for the rich amber acorns. The 3-chain reproduction fixture was created at Century Studios to the length specified by the client. It now adorns a breakfast nook.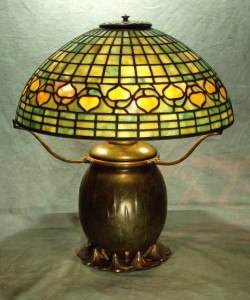 The second Acorn shade was made for use as a table lamp. With a mixed blue/amber background and amber acorns, this colorful shade is lit by the Swamp Flower base. Created by Century Studios, the Swamp Flower base has a highly textured lower plate of bronze blossoms and stems. The rounded bronze body features water plants in low relief. The design of the base beautifully compliments and supports the shade. This lamp now resides in a home in Virginia.