This past weekend, we traveled to New York City for a whirlwind visit. Any trip to New York is not complete without seeing "something Tiffany", and this time we visited the Lillian Nassau Gallery at 220 East 57th Street on Saturday morning. As always, there were many wonderful Tiffany lamps, desk set pieces and blown glass items on display. Arlie Sulka chatted with us as we ooh-ed and aah-ed over the treasures. The gallery has been doing many shows lately, so we were fortunate to visit when the large stock of lamps was not on tour.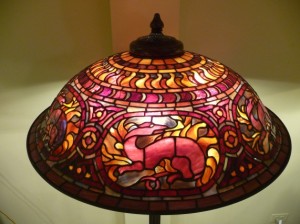 A piece that stood out in the gallery's current collection is a 27″ Salamander shade on a Junior Floor Base (the photo is from www.lilliannassau.com). The glass in this impressive shade is appropriately hot and fiery. The flames look like they could scorch you if you got too near the piece.
The other is a very large and impressive blown glass Peacock Feather table lamp. Being close to four feet in height (if not over), this lamp can only be called a table lamp because it sits on a table (for a photo of a similar lamp, see Tiffany Lamps and Metalware by Alastair Duncan, p.37, pl.123). The lamp featured a large blown glass shade, an enameled collar with scarab beetles and an enameled apron at the bottom of the piece. Having only ever seen this piece pictured in books, it was a revelation to see it in person.