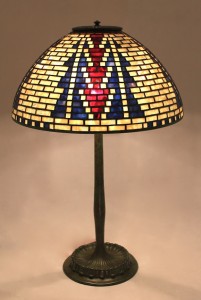 This 16″ Indian Basket shade is a Century Studios adaptation of a Tiffany Studios chandelier fixture. Commissioned by a North Carolina client, this table lamp has a unique look amongst Tiffany shade patterns.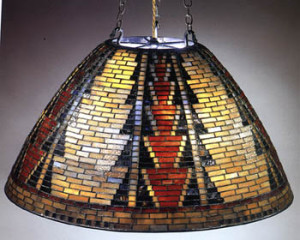 Our adaptation was inspired by an original 24″ hanging fixture created by Tiffany Studios. The fixture is a unique design that was created for Robert deForest, a friend of Louis C. Tiffany. Both men collected Native American baskets and the original shade graced a hall in deForest's home where he displayed his collection. The original fixture is now displayed in the collection of the Metropolitan Museum of Art in New York City.
Over the years we have had several clients ask for a version of this design sized for use as a table lamp. This is the third version we have created. The shade is shown on the Grooved base.