We have received many requests for a floor base that will work with smaller shades. In response to these suggestions, we have created a Petite Floor Base which will work with 16″, 18″ and 20″ shades. By using a combination of reproduction and modern parts, we have created a hybrid floor base that is attractive and cost effective.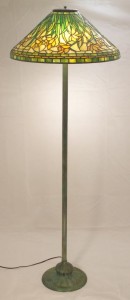 The Petite Floor base starts with a cast bronze Tiffany Studios reproduction base plate. This casting provides weight and a period look to the floor base. The center portion of the base uses modern parts for the stem. The top of the base is a three light cluster which is once again reproduction Tiffany. This allows for the standard riser, cap and wheel configuration used on Tiffany lamps. The base stands 54″ tall.
Shown on the new base is a 20″ Windswept Daffodil shade which we completed and is now available in our showroom. in the photo below, the shade is shown on a Kendrick Pottery base.