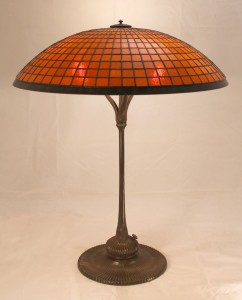 The 24″ Parasol shade on the Mandarin Lotus base is an unusual Tiffany creation. Tall and umbrella-like, the shade floats on the slender stem high above the table top. Because of its shallow saucer shape, the 24″ Parasol shade makes a pleasing inverted chandelier fixture. This lamp was created as a showroom piece, and it has been stopping visitors in their tracks when they come into the studio. It is currently available for purchase.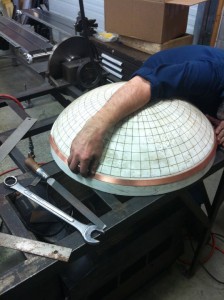 The shade is created in a butterscotch colored glass, and the gentle curve of the shade continues through the heavy copper rim. To create this rim, we worked with a talented machinist who had to roll a thick copper strip into a circle at just the right angle. Special rollers were machined to give the rim the precise look of an original Tiffany shade. The photo on the left shows the machinist checking the fit of the rim on the form.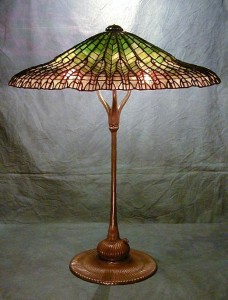 The slender Mandarin Lotus base is cast in bronze at our studio, using molds taken from an original Tiffany example. This unique base is also used with the 25″ Mandarin Lotus shade.