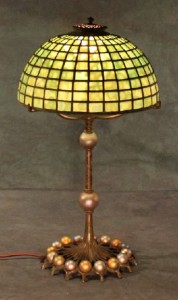 We recently completed a couple of geometric lamps for out of town clients.
The first was a 10″ Geometric for a client in Kentucky. This shade was created from a two tone, mottled green Circa 1900 glass. It is shown here on the Lustre Ball Base, which is a perfect compliment to this petite shade.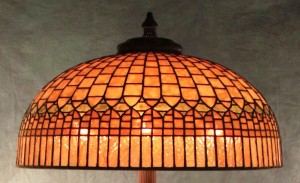 The next shade we finished up was a much larger 22″ Curtain Border. Commissioned by a client in Idaho, this Tiffany pattern is a smaller version of the 24″ Curtain Border. Tiffany Studios would often create shades at different sizes for maximum versatility. This 22″ shade can be used as a table lamp, on a Jr. Floor base or as a chandelier fixture.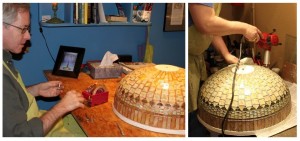 In the photos above, Bill is seen foiling the shade and Irwin is pictured heating the shade so it can be taken off the form and completed.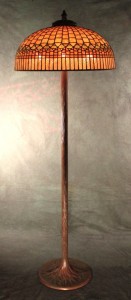 Created in warm amber tones mixed with oranges, this welcoming shade was ordered as a floor lamp. The shade tops the Tree Trunk Jr. Floor Base.