In our previous posting, we showed the 12″ Dogwood and mentioned that we had completed two other lamps since the first of the year. All three shades were cut and fit during the holiday season, completed this past month, and are now available for purchase in our showroom.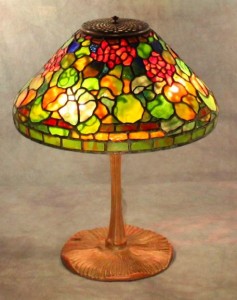 Despite its small size, the 14″ Geranium packs a color punch. Blue, green, red, amber, yellow and orange all blend together in lively harmony. The shade is shown on the Mushroom base. Standing 16″ tall, this compact lamp would be a wonderful color accent on a side table, desk, or as a bedside lamp.
By contrast, the generously sized 20″ Acorn shade could be used on as a floor lamp, chandelier, or table lamp. This shade is deeper than the other 20″ shades, giving the piece the presence of a larger lamp. The shade is shown on the highly detailed Decorated Library base.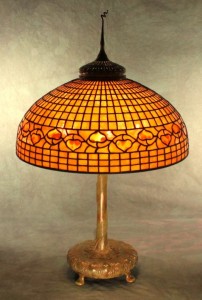 Composed in a butter yellow glass with orange undertones, the gently mottled background color has a warm, welcoming look. The acorns are rendered in a more transparent, orange/amber glass that compliments the background color.