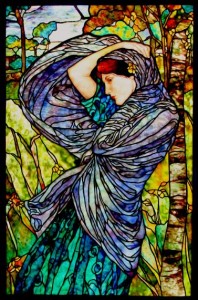 This past week we completed the Boreas Window. While we have created many elaborate, multi-layered windows for clients recently, it has been quite a while since we had one on display in the showroom.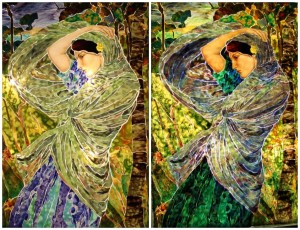 As we mentioned on our blog posting from January 16, 2012, Bill cut and fit the window while Irwin worked on several lamp orders. The photo above shows the pieces laid out, ready for foiling and final assembly. For this style of window, we will employ two or three layers of glass to create the finished window. The additional layers add color tone and create depth in the final window. On the left side is the main window without the additional layers. The image on the right shows all three layers stacked together.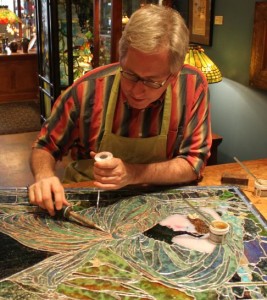 Once the main layer of the window was soldered together, the additional piecework was added to the front and back of the window. Bill is shown soldering on the back of the window before the plated layer can be added.
The face and arm were hand painted and kiln fired.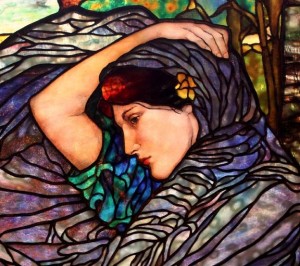 A second layer of glass was added behind the painted pieces to give the skin depth and additional color.
The Boreas Window measures 2′ x 3′ and is being put into a light box to hang on the wall, and is available for purchase in our showroom.