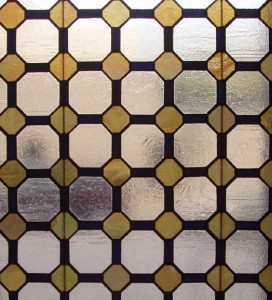 Over the past two weeks we worked on and completed a number of projects that were waiting to get finished up once we got past our September show.
The first project was a large skylight that was made in a Persian floor tile pattern. The larger squares were transparent to let in a lot of light, while the blue and gold tiles were rendered in lustre glass.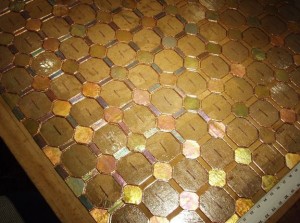 Because this piece is being installed horizontally in a skylight, it needed lots of extra reinforcement. In the photo showing a segment of the completed window you can see the reinforcing bars through the semi-transparent glass.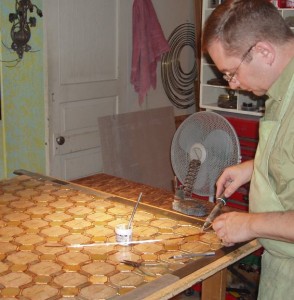 While Irwin was working on the large skylight, Bill was making up a suncatcher whose design was based on a wedding invitation.

We have made several pieces of this sort over the years, and the completed pieces make great keepsakes for the wedding couples.
It was a week of multi-tasking , having three projects running concurrently. The third piece was a rendition of the famous "Peek – A – Boo" window from the Purcell Cutts House in South Minneapolis.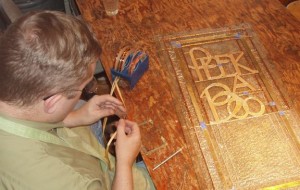 Owned and operated as a period house by the Minneapolis Institute of Arts, this famous arts and crafts style home is open for tours and features amazing leaded windows.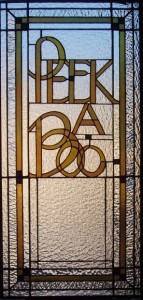 We created this version of the signature design at the request of a local client.