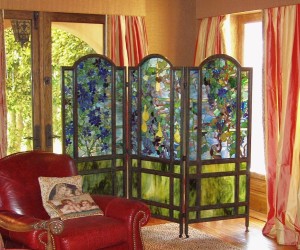 This past weekend we took a trip to Los Angeles to install/set up the Autumn Folding Screen at its new home in Beverly Hills. The setting for the screen could not have been more perfect, and it now occupies one corner of the great room where it gets lots of light from two floor to ceiling glass door/windows.
After we completed the installation, we had some time to explore and enjoy the area. On Saturday, we visited the Huntington Library and Gardens in Pasadena. The Library is home to several museum buildings as well as extensive themed gardens.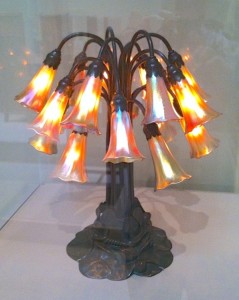 One of the museums on the grounds houses a collection of American fine and decorative art. It was a pleasure to run across a Tiffany Studios 18 Light Lily Table Lamp as well as several desk set pieces. This building also has a beautiful exhibition of Green and Green furnishings, lighting and a period room.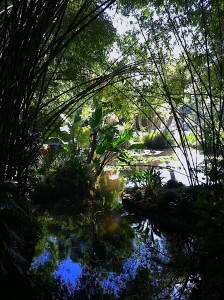 Strolling the grounds was inspiring and tiring! The Lily Pond Garden was especially memorable and has us itching to make up a 20″ Waterlily shade for the showroom.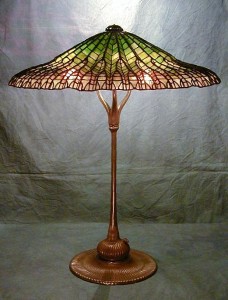 In several ponds there were Lotus plants. While past their bloom, these impressive plants displayed the huge round leaves that inspired the artists at Tiffany Studios to create the Mandarin Lotus Shade. Many of the leaves swaying gently above the water surface looked just as large as this impressive shade, which is 25″ across.