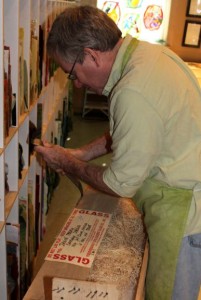 We often get asked how we get our sheet glass to the studio. After the sheets of glass are picked, they are shipped to Century Studios by truck in wooden crates with lots of padding. The crates of glass can be very heavy, but we have a basic system involving a two wheeler and a couple of boards to safely get the crate from the street, through the showroom, and into our work area for unpacking.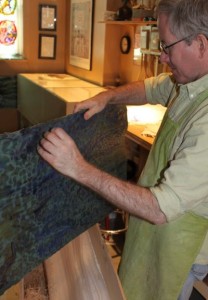 Bill is shown uncrating our most recent case of 25 sheets of hand made art glass. Some of this glass is already being incorporated into shades we are working on.
We rarely get asked to create a matched pair of shades, but a local client commissioned us to make a pair of 16″ Geometric Cones on Small Stick Bases to be used on matching bedside tables. The shades delighted our client who was anxious to take them home and set them up.