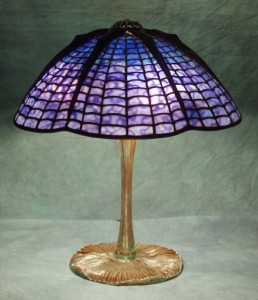 We sometimes get unusual color requests for our lamps and enjoy the challenges these requests present. Geometric style lamps are generally created in the white, amber or green tones. For this piece, we were commissioned to create a 15″ Spider shade which shaded from deep blue to lavender.
Using three separate pieces of glass, the color selection of the pieces was carefully composed so the transition would be smooth. The completed shade and base are now in the collection of a California client who is very pleased with the results.
For more information on Spider lamps, see our blog posting from August 21, 2008.