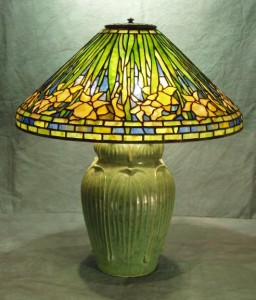 One of Tiffany Studio's more popular floral shade designs is the 20″ Daffodil. This is one of the only shade patterns where the flowers are inverted, rather than "growing" from the bottom of the shade. Because the flowers are clustered at the lower edge of the shade, the 20″ Daffodil makes a wonderful chandelier fixture when hung over a dining table.
We recently completed the 20″ Daffodil shade pictured in the photo shown above. The coloration of the shade is light and airy. This shade is currently available in our showroom and is shown on the Pottery Base – Kendrick Design. The pottery is inspired by a Grueby Pottery original and was created by Jemerick Art Pottery to our specifications. We created the reproduction metalwork and light cluster which illuminates the shade.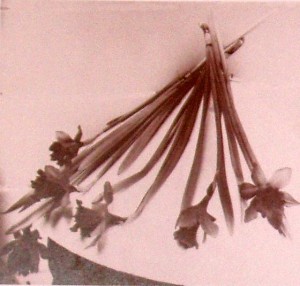 There is an original Tiffany Studios' black and white photograph in the collection of the Charles Hosmer Morse Museum which shows a bunch of Daffodils which have been gathered at their base and draped over a lamp form. This photo was presumably used for reference by Clara Driscoll during the design process of this shade.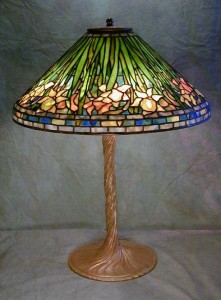 We created the 20″ Daffodil pictured to the right in 2002. This lamp is in a private Minnesota collection. In this rendition, the colors are deeper than the shade shown above.