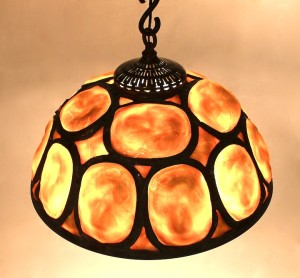 This week, Century Studios is pleased to add another shade to our line – the 20″ Turtleback Chandelier. Tiffany Studios created this shade in several sizes, and this is a smaller version of the large 26″ Turtleback Chandelier we make.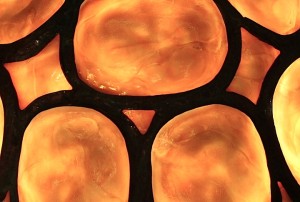 This unusual Tiffany chandelier was created using large turtleback tiles which were pressed using molds taken from an original example. The amber/butterscotch glass color was custom made for us after several years of trial and error, and the tiles have a strong amber lustre surface. The spaces between the large tiles are filled by hand cutting/fitting/faceting chunks cut from additional tiles. The finished shade realistically resembles the shell of a large tortoise. We can also create this shade using green turtlebacks.
This lamp is currently available in our showroom.