While Bill is laying out the remaining two panels of the "Four Seasons" windows for our Wisconsin client, Irwin has been working on several geometric shades, as well as a floral design at the same time. Talk about multi-tasking!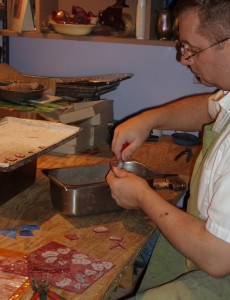 The floral shade nearing completion is a 16″ Pansy for a local client. The pansy is a plant that readily lends itself to stained glass due to the bright colors of the flowers. Irwin is busy cutting some red flower petals for the shade in the photo to the left.
This Tiffany Studios design has four repeats to complete the 16″ shade.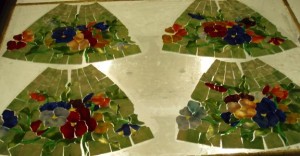 At the right is an image of the four sections on the light table for final inspection before the foiling of each piece begins. This shade has many tiny pieces, especially the flower centers, which are little more than chips of glass which must be shaped by hand to fit the pattern.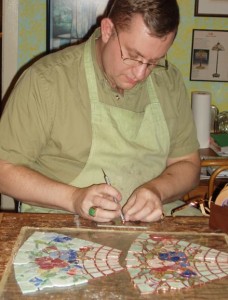 Irwin is well under way with the foiling and next will be transferring the pieces onto the waxed form followed by the soldering of the shade. We'll post more pictures as the shade is completed.