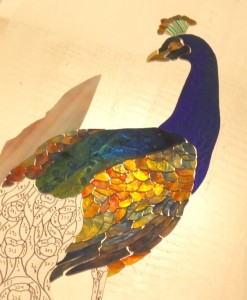 We are working on new pieces for our booth at the upcoming Arts & Crafts Show. One of the works nearing completion is a Peacock Window.
Taking our inspiration from a Tiffany Studios stained glass window, our version is scaled to hang in a home window.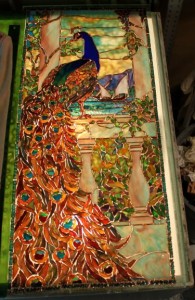 Here is a sneak peek at the window in progress! In the photo above, the bird is just getting laid out. To the left, the window is cut, fit, foiled and ready to be soldered together.
To see the completed piece, stop by our booth at the show! 13th Annual 2012 Arts & Crafts Show and Sale. September 22 & 23 in the Progress Center Building on the Minnesota State Fair Grounds.