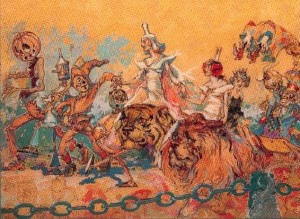 As Irwin completes the soldering on the Renoir window (see posting from June 28, 2010), Bill has been starting a large "Oz" stained glass window. This window is based on the Oz Parade, shown on the left, a mural painted by John R. Neill in the 1930's.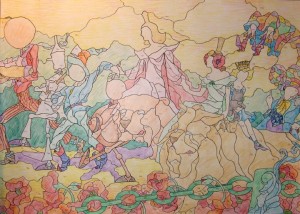 John R. Neill was an illustrator who is best remembered for illustrating 35 titles in the Oz book series beginning in 1904 and continuing until his death in 1943. Mr. Neill also wrote 3 books in the "official" series. He did not illustrate the first Oz book, The Wonderful Wizard of Oz by L. Frank Baum, which was published in 1900. It is hard to find a person today that is not familiar with the 1939 movie starring Judy Garland, and the original Oz books are still widely collected. There is even an International Wizard of Oz Club which celebrates all things Oz!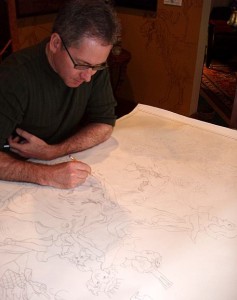 The original mural painting may or may not still exist, but there are a number of watercolor sketches for the painting in different collections. Bill has always enjoyed the parade of colorful characters shown in the sketches, and wanted to create his own Oz Mural in glass.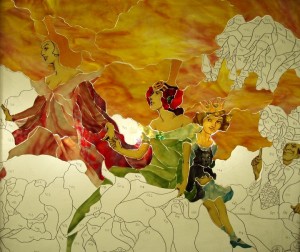 Above, you can see the working cartoon for the window. The cartoon is the basic pattern or blueprint used for cutting the glass and layout. The cartoon has been given a general coloring, but the final details are not seen in this pattern. Bill has decided to brighten up the glass color selections in the finished window, but the idea is to keep it as Neill-like as possible!