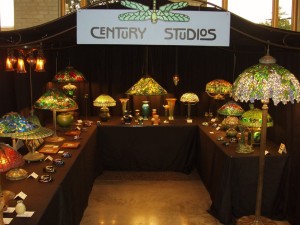 The 10th Annual Arts and Crafts show will be held Saturday, September 26th & Sunday, September 27th at the Minnesota State Fair Grounds. Held annually in the Progress Center Building, this exciting show features antique and reproduction arts and crafts era items for sale from more than 50 national dealers.
Hours:
Saturday, September 26th, 9:00 AM – 5:00 PM
Sunday, September 27th, 11:00 AM – 4:00 PM
Admission is $7.00.
Free street and lot parking within the Fairgrounds
Century Studios will be participating and will be located in our usual booth space just to the right of the main entrance. We are working to create new lamps and will also have a nice selection of pottery and blown glass items on display. Hope to see you there!